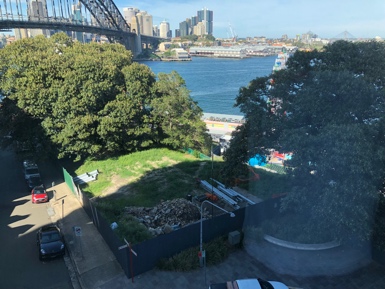 Posted by Ian Mutton
On June 25, 2018
Harry's Park, Luna Park
Lots 10, 11 and 12 overlook Luna Park and the harbour – they were leased to Luna Park Sydney in 2004.

In 2006 Luna Park Sydney, our State Government and Mrs Seidler reached an agreement:
• Mrs Seidler:
Paid Luna Park Sydney $5M and "acquired" lot 10 (which she landscaped as a park and made it available to our community)
• Luna Park Sydney was to landscape lot 12 and make it available to the community.
We are still waiting for lot 12 to be landscaped. It just can't be that hard to take down the corrugated iron fence to turn the dump into a park.
Today I ask our local State Member, Ms Felicity Wilson – it's been 12 years, how much longer to we have to wait for the landscaping be completed?
Summary of Issues I am Monitoring
• The long-promised extension to Harry's Park
• The Secret Agreement between the State Government and "Luna Park"
• Lavender Green's unexpected building
• 1 Henry Lawson Drive
• Metro shafts and spoil
• The promised jetty for Berry's Bay