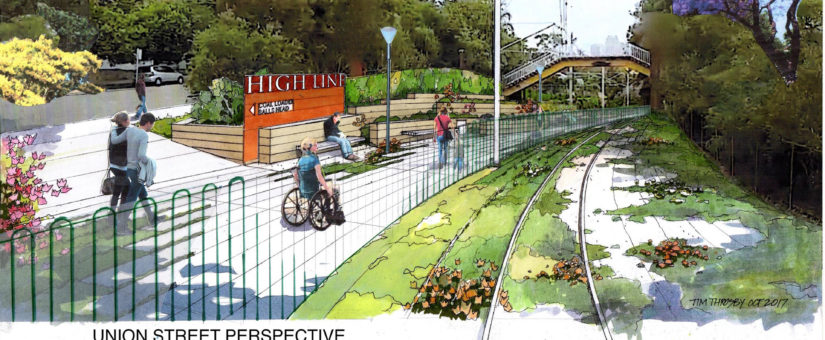 Posted by Ian Mutton
On June 25, 2018
High Line, SHHL
The Sydney Harbour High Line Association (the efforts of Joan Street and David Bowman) has been busy building support and preparing plans for the conversion of the largely disused rail corridor between Waverton station and Lavender Bay into a lineal park/walking trail.
The Premier said: A NSW Liberals & Nationals Government will never sell off the land (rail corridor; it will ensure it remains a community asset. The Premier then established a committee to consider the feasibility of the High Line – she appointed the member of North Sydney, Felicity Wilson, to head that committee.
Minister for Transport confirmed: That he and Sydney Trains have agreed that work to create a walking path along the rail corridor can commence on the side where tracks have been removed, before the active rail line is closed on the other side of the spur.
Head of Sydney Trains, the "owner" of the rail corridor, said: That while some of the land on the route, which varies considerably in width, could be turned over to community use sooner rather than later. It's estimated to cost $5m – that's less than 1% of the cost of rebuilding the Football Stadium. The Association has presented detailed plans and costings for the High Line our Premier and the Committee she established to examine the project.
All that's needed is for the Premier and Felicity Wilson to give the go ahead for work to start and make funds available. It's time to get cracking. Visit the web site sydneyharbourhighline.org.au for more information
Summary of Issues I am Monitoring
The long-promised extension to Harry's Park (waiting to hear from our local member)
The High Line (today's subject)
Watts Park's stairway
The Secret Agreement between the State Government and "Luna Park"
Lavender Green's unexpected building
1 Henry Lawson Avenue
Metro shafts and spoil
The promised jetty for Berry's Bay