Posted by IanMuttonAdmin
On August 11, 2021
harbour bridge cycleway
Milsons Point's Bradfield Park;
 it's under Attack by the State Government for no good reason
with a $20m (2016 cost data) spend on a ramp.
The State Government is planning to build a cycleway through iconic Bradfield Park at Milsons Point.
North Sydney is one of the most densely populated areas of Sydney; it's acutely short of open green space with more residents per hectare than almost all other urban Councils. In North Sydney,  more than 89% of its residents live in apartments. In Milsons Point almost 100% of its residents live in apartments.
There's a critical shortage of open green space in Milsons Point and North Sydney.
Preserving our existing open green space is imperative.
Now the State Government plans to reduce our open green space by building a cycleway on Bradfield Park (not to mention the loss of Cammeray golf course to the Western Harbour and Beaches' tunnels).
Why?
The State Government's own data shows the number of cyclists going to and from the Harbour Bridge:
increased from 2007 to 2013/2014, but
 has fallen steadily since 2014.
That's a decrease in usage of around 33% since 2014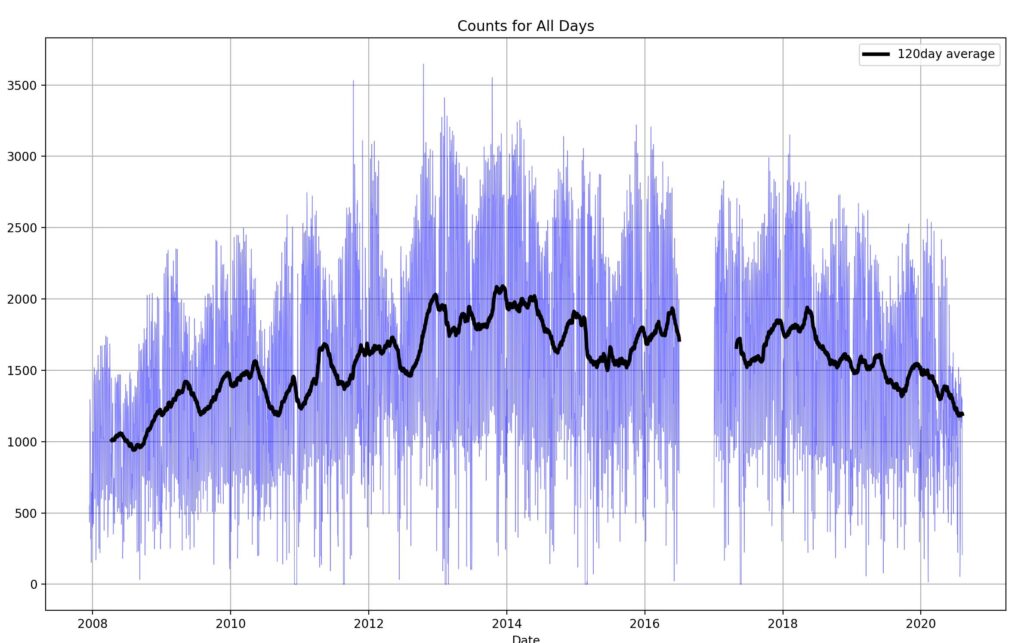 The black line is the 4-month average.
So, what's the daily average of cycle trips today?
Hard to tell because the State Government stopped measuring in September 2020 – wonder why?
In 2020 the average number of cycle trips per day was:
| | | |
| --- | --- | --- |
| Day | Average Cycle Trips | Average Number of Cyclists |
| Monday | 1859 | 930 |
| Tuesday | 2066 | 1033 |
| Wednesday | 1962 | 981 |
| Thursday | 1883 | 942 |
| Friday | 1527 | 764 |
| Saturday | 807 | 404 |
| Sunday | 898 | 449 |
Why build a cycleway on Bradfield Park to cater for a falling number of users?
The State Government's Transport for New South Wales reports the daily average cycle trips to be over 2,000 but to get to that figure it relied on the entire data set (stretching back to 2007) – the present daily average cycle trips is nearer 1,500 i.e., 750 cyclists.
The State Government is set on building the cycleway (budgeted in 2016 to cost $20m) to cater for decreasing bike numbers and also destroy valuable open green space.
Perhaps the time has come to allow pedestrians to again use /share the walkway on the western side of the Bridge, presently reserved for the exclusive use of cyclists. Let's trial by sharing on weekends when there are fewer cyclists.