Posted by IanMuttonAdmin
On May 15, 2023
neutral bay plaza, north sydney, roads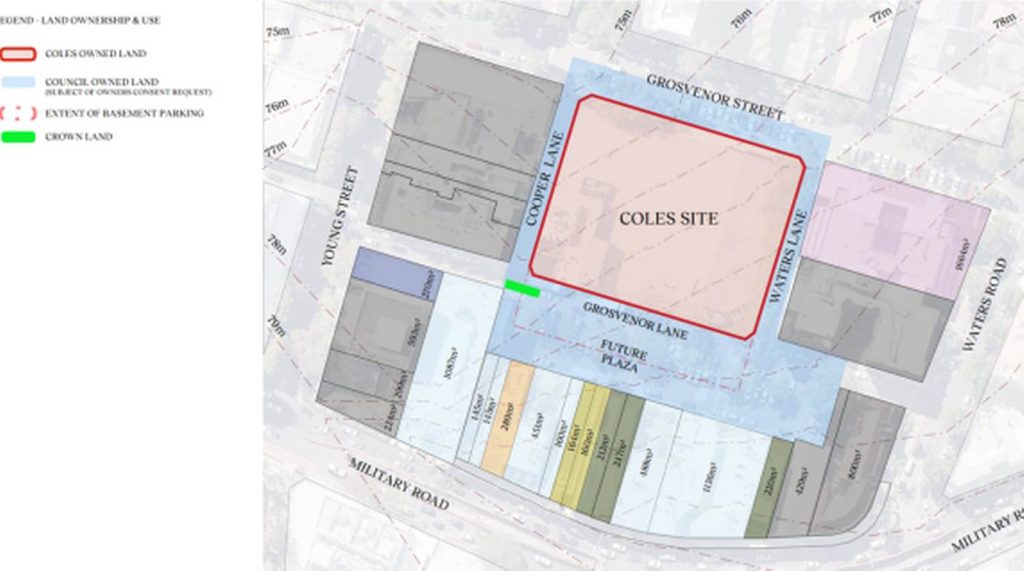 Military Road was dotted with "villages" that formed at the junctions of the tramlines from the wharfs at Neutral Bay, Cremorne Point, Mosman and Athol. With the opening of the Harbour Bridge, road vehicles displaced ferries as the preferred means of travel to and from the city and around our suburb
Suddenly there was a need for car parks.
Reminds me of Joni Mitchell's 1969 hit, Big Yellow Taxi
They paved paradise
And put up a parking lot
Don't it always seem to go
That you don't know what you've got
Till it's gone
North Sydney Council was in on the act of putting up car parks – it acquired the land that is now the Grosvenor Lane car park. If ever there was a gleam in a developer's eye it is this car park.
Question: Should we retain Neutral Bay's "village" atmosphere of do we really want Council to pursue a strategy that sees bigger retail spaces and more parking?
What's Council's vision for Neutral Bay "Village"?
Council commissioned the Neutral Bay Town Planning Study to chart a future for the town centre that balances development and the need for additional public spaces and facilities. Community consultation is slated to start shortly.
Recent decisions of Council impacting on Neutral Bay's "village" future.
Young Street Plaza
An opportunity to lessen the impact of cars on Neutral Bay "village" and make space for pedestrians came with the introduction of the M1 bus service and, with it, the State Government's aim to reduce the number of intersections with Military Road. The opportunity saw the conversion of Young Street to a temporary Plaza.
The plan to make the Plaza permanent (which was funded by the State Government) was defeated when six Councillors voted not to go ahead with the Plaza and to re-open Young Street both to through traffic and kerbside parking.
That was a loss for pedestrians and open green space.
Council considered proposals with respect to:
land bounded by Waters Lane, Grosvenor Street and Waters Road,
Monford Place and
Coles and Council's Grosvenor Lane car park
Waters Lane, Grosvenor Street and Waters Road – 12-14 Waters Road
The proposer offered to:
pay Council $1.9m and
give Council (by way of a setback) land to widen the footpath along Waters Lane by 1.5 meters "to provide an improved pedestrian environment"
in return for consent to build to a height of 24 meters with street access from Waters Lane (with the Lane now included in the Coles proposal).
It would have been a win for pedestrians and Council's coffers.
Monford Place
Monford Place sits on the edge of the Neutral Bay "Village". It's a "dead-end" road being completely surrounded by the Redlands Campus. Council was asked to consider the sale of the Place to Redlands. The arguments against sale and closure would result in the loss of kerbside parking and Council assets should not be sold.
It would have been a win for Council's coffers.
Coles, back to that gleam in a developer's eye.
Coles requested Council, in its capacity as owner, to consent to the inclusion of:
Coopers Lane
Waters Lane and
Grosvenor Lane car park
in a Development Application to be lodged – it foreshadowed an increase in parking beyond the needs of a residential complex to be built above the retail facility (almost as high as the one proposed and rejected for Waters Lane, Grosvenor Street and Waters Road.
Coles' request was granted by Council.
Council's grant made without condition. Why so fast?
Coles is dictating the timetable.
Not surprisingly many of the business owners that make the Neutral Bay "village" viable and delightful are scared by what Coles and now Council may have in store for them both during the construction phase and after completion.
As for the community, one speaker who recently spoke to Council in public session in support of Coles authorised a pamphlet published at time of the last Council election in which it was noted:
Locals Lose Out. Loss of the convenient Council carpark that provides access to all local shops, with parking to be relocated multiple levels underground – for the developer's commercial benefit.
The same six Councillors voted for returning cars to the Young Street Plaza, retaining Monford Place, rejecting the Waters Road development and for Council to join with Coles.
When it comes to Coles, I think Council should have waited for the completion of the Neutral Bay Town Planning Study given that we are constantly talking about the importance of community consultation.
Tell me your thoughts on how improve Neutral Bay's "village" – write to me at imutton@crafers.com